I am a Pag-IBIG savings member, can I withdraw my contributions?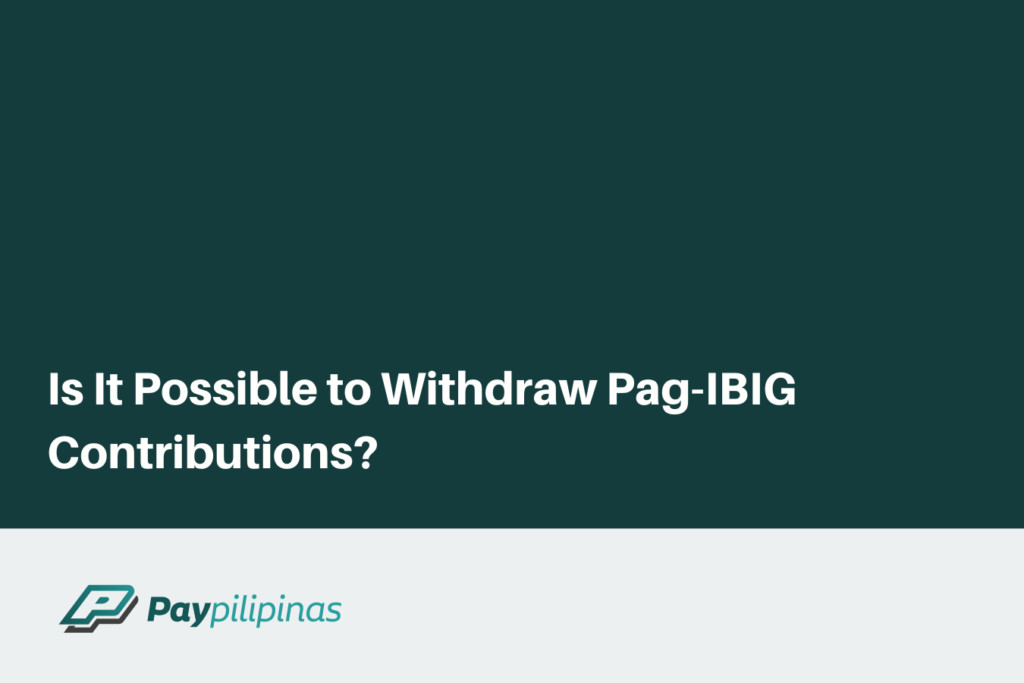 Yes, you can withdraw your Pag-IBIG contributions upon the occurrence of certain grounds. These include membership maturity after 20 years, retirement, and optional withdrawal as long as you meet certain grounds.
You can withdraw your contributions online through the Virtual Pag-IBIG, provided that the reason for your withdrawal is within the coverage of the terms. It usually takes 18-20 working days to process the withdrawal of your Pag-IBIG contributions.
However, it is important to note that not everyone can withdraw their Pag-IBIG savings at any time.
– Circular No. 440 or the Modified Guidelines Implementing the Optional Withdrawal of Pag-IBIG Savings
When am I allowed to withdraw my Pag-IBIG Regular Savings?
You may withdraw your Pag-IBIG Regular Savings under the following conditions:
Upon the maturity of your membership after 20 years or 240 months of contributions
When you retire at 60 at will or upon mandatory retirement at age 65
Upon separation from service for health reasons
When you leave the country permanently
If you fall to a permanent or total disability or insanity
In case an immediate family becomes critically ill (must be certified by a physician)
In the event of death
How much of my Pag-IBIG contributions can I withdraw?
The allowable amount for Pag-IBIG savings withdrawal will ultimately depend on your reason for withdrawing and your total contributions. Below are the different scenarios and their allowable amounts:
Maturity Claim: Members who file a maturity claim after 20 years can withdraw all of their contributions. This applies regardless of skips or gaps in your contributions.
Withdrawal before maturity: Members can get the Total Accumulated Value (TAV), meaning all savings before maturity under the following instances:

Retirement
Permanent or total physical disability
Permanent departure from the country
Death of the member
Insanity
Termination from service for health reasons
Optional Withdrawal

Pag-IBIG Overseas Program Claim: Member can file a claim after 10, 15, or 20 years upon registration, depending on the selected option upon registration.
Optional Withdrawal: Members can also withdraw their Pag-IBIG savings before maturity. To do this, you must meet the following requirements:

You are a member for a minimum of 15 years before the withdrawal date.
The member should have no outstanding loans with the agency upon claim submission.
Continuous (no gap during employment) contributions of 180 months
How do you withdraw your Pag-IBIG savings?
The steps to withdrawing your Pag-IBIG savings may vary depending on the reason for your claim. Generally, the steps are as follows:
Determine your type of claim and submit a copy of the Application for Provident Benefits (APB) Claim Form.
Attach your supporting documents and submit them to your nearby Pag-IBIG office.
Wait for your Provident Benefits Acknowledgement Receipt.
Get your claim proceeds on your schedule.
Requirements during withdrawal:
Valid ID
Pag-IBIG Loyalty Card (In case this is unavailable, bring two valid IDs)
Retirees must bring a Valid ID reflecting the birth date. Suppose these are not available, the following alternatives will do:

Member's Birth Certificate from the Philippine Statistics Authority (PSA)
Birth Record non-availability from PSA and notarized Joint Affidavit of Two Disinterested Persons

Supporting documents
Related: